Welcome to the site and it's great to have you. There are plenty of sites to congregate and talk about the Dallas Cowboys so we appreciate your interest and any participation. This is Cowboys 360 and our overall goal is to be your Cowboy haven.  Step in and make yourself at home.

Custom Search
Entire Contents Copyright © 2011 and forever before and after

TheCowboys360.com and author.

All Rights Reserved.

Sign up for Newsletter 360 and we'll keep you updated with the latest from The Cowboys 360.

You'll also receive special offers on Dallas Cowboys merchandise.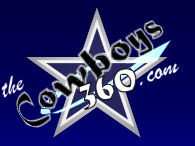 Getting to the Heart of the Giants – Cowboys Battle

On paper where no games are ever played, it is difficult to tell the difference between the Dallas Cowboys and New York Giants. On the offensive and defensive sides of the ball there are eerily similar strengths and weaknesses and both teams leave much to be desired relative to making plays on special teams. A look more deeply however reveals a stark reminder of what's to come on Sunday night.

The quarterbacks in this matchup could build a hall of fame resume if they could face these opposing secondaries on a weekly basis. There is nothing to fear in Aaron Ross, Prince Amukamara and Corey Webster and the Giants safeties have not added much to the defense either. About the only worse than this unit is the one they will be watching flounder against Eli and his other ten beneficiaries. Terence Newman has solidified his status as Toast 2.0 while Mike Jenkins and Orlando Scandrick couldn't make a big third down play if they were facing each other. Dallas' safeties haven't fared any better with Sensabaugh regularly being seen on ESPN and the NFL Network's highlight reels. Both teams flash explosiveness in Ware and Pierre-Paul but not even these tremendous players can make up for horrid back fours.

Tony Romo and Eli Manning should have their way once again assuming Romo can recover from the bruised hand suffered in the Philly loss. Cruz, Nicks and Manningham should have their way and present an almost impossible challenge when lead by a potent run game featuring Ahmad Bradshaw. To make matter worse, Eli has been exceptional at attacking the middle of the field with the TE game. Romo employs a similar set of weapons such as Bryant, Austin and a reliable Jason Witten. Assuming Felix Jones can carry the load and that's a huge assumption, the Cowboy attack is every bit as dangerous as the Giants' attack.

While these units seem a virtual draw, the element where there is a distinct mismatch is in another area altogether. It may be hard to show statistics to support the notion but the Giants have shown a tremendous heart and ability to take significant punches after punches. Stats won't show you the way a team can take it on the chin and still not lose focus and determination. I have seen the Giants come back after horrible mistakes and haymakers from the opponent and it's because they are an all day sucker. The Cowboys can verify that one just from a few weeks ago. The Giants have become an extension of their coach and QB which also pours over onto the defense. While the Giants continue to come after you no matter the challenge, the Cowboys have shown a more fragile portrait. It's almost as if they are worse when they start fast because any little road bump seems to set the wheels in motion for a collapse. It doesn't happen all that frequently, but it does happen enough to make a big game such as this a scary one. The elements will surely be present for a gaffe or two from Garrett, Ryan or the secondary. The difference between the Giants and the Cowboys is that Romo's MVP play in 2011 is not enough to impact the defense. For some reason, the play of the defense has not fed off of its unquestioned leader. Romo can make play after play and secure lead after lead but the defense almost always will allow 3rd down conversions and quick and easy scores.

For the Cowboys to bring the division crown back to Dallas, they will have to find a way to get acceptable play from Newman, a play or two from Spencer, and a game changing type of play from either Jenkins or Scandrick. Whatever the odds of that happening are the odds the Cowboys have of walking out of the Giants' stadium with a few more beats of the heart and another game to play.